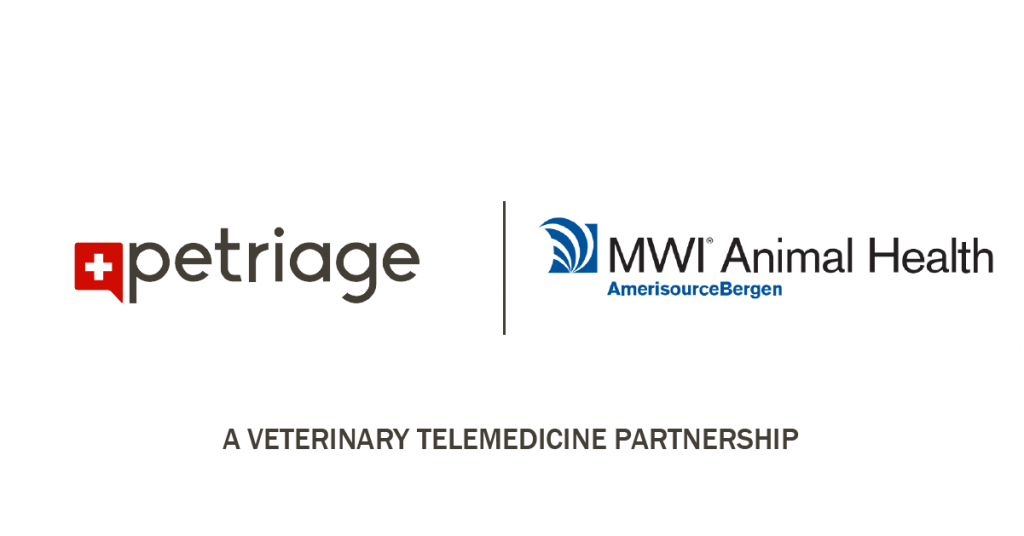 MWI Animal Health to Distribute Petriage's Unique Veterinary Telehealth Platform in North America
Will Offer Petriage's Pet Telehealth Services as Part of Veterinary 'Tool Kit' to Respond to Pressures, Concerns Created by COVID-19
April 14, 2020 By PRNewswire
As more veterinarians begin to incorporate remote care services in response to the COVID-19 coronavirus, MWI Animal Health, a leading distributor of veterinary products and services, and Petriage, a B2B provider of telehealth services to veterinary practices, today announced a strategic collaboration to offer Petriage's state-of-the art telehealth platform to veterinarians and veterinary practices in North America.
The collaboration comes as veterinarians and pet owners strive to help limit the spread of COVID-19. Petriage's platform enables vets to treat household pets remotely while also integrating the pets' medical data effortlessly into their vet practice management systems. MWI is part of AmerisourceBergen, a global healthcare solutions leader.
"At MWI, we're focused on providing veterinary practices with the tools and resources they need in today's dynamic animal health marketplace," said Brian Topper, MWI's Animal Health Vice President of Product Strategy. "Our work with Petriage and its telehealth capabilities is timely as we continue to grapple with the impact of COVID-19 while meeting our commitment to create healthier futures for the pets and other animals our veterinary customers serve."
"We are thrilled to partner with MWI, an animal health supply chain leader that, like us, has its roots in the Northwest," said Petriage CEO Allon Freiman. "With their huge reach and consummate relationship with veterinary clinics in the U.S., Canada and the U.K., MWI's specialty sales representatives will help guide their customers to our services so we can demonstrate the benefits to them of pet telehealth."
Established in 1976 by Millard Wallace Ickes, a DVM and accomplished equestrian whose initials grace the company's name, MWI serves tens of thousands of veterinary practices and offers over 50,000 products and services. It was acquired by AmerisourceBergen in January 2015.
Petriage, founded in 2015, provides a free, proprietary teletriage app combined with premium services that enable veterinarians to engage their clients virtually after-hours in the care of their pets and to integrate pets' medical data into their vet practice management systems.
With Petriage's unique software platform, veterinarians can assess the urgency of household pets' health symptoms remotely and deliver trusted recommendations while also integrating the pets' medical data effortlessly into their vet practice management systems. Its telehealth service features a proprietary and advanced online pet symptom checker that uses a sophisticated algorithm to identify what may be ailing a dog or cat. Pet owner clients can assess the need for veterinary care and remotely engage their family veterinarian.
In today's on-demand economy, Petriage helps veterinarians expand their traditional business model by offering a personalized telehealth solution with both teletriage and telemonitoring capabilities and evolve into "brick and click" practices. This enables them to capture a significant portion of cases occurring after-hours that they would have been unaware of and likely would result in emergency room visits.
Petriage's Basic service – the simple-to-use mobile interface validated by veterinarians – assesses the urgency of a dog or cat's health symptoms and delivers trusted recommendations. Its Essential service level offers pet parents telemonitoring capabilities with their veterinarian. The Premium service level adds the ability to chat live with the vet and share photos and video for full engagement about a pet's health.
About MWI Animal Health
A part of AmerisourceBergen, MWI Animal Health is a leading distributor of veterinary products and services for treating all species of animals. We build lasting relationships with veterinarians through a deep understanding of clinic operations, competitive pressures and growth strategies. Learn more at https://www.mwiah.com/.