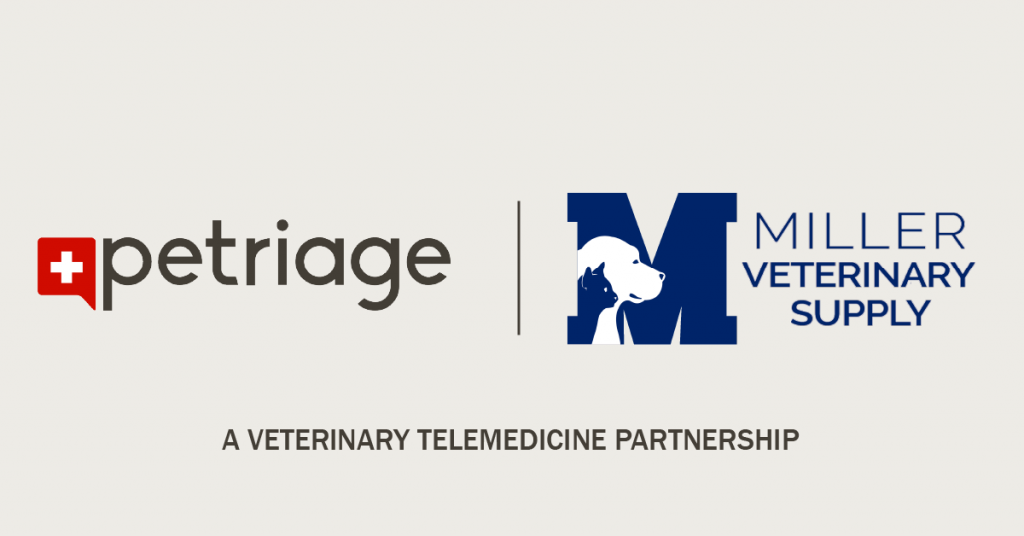 Petriage Announces Partnership With Miller Veterinary Supply Co.
Oldest U.S. Wholesale Veterinary Distributor to Offer Unique Pet Telehealth Service To Thousands of Vet Practices Nationally
March 13, 2020 By PRNewsWire
Petriage, a B2B telehealth provider of state-of-the-art services to veterinary practices, today announced a partnership with Miller Veterinary Supply, the nation's oldest wholesale veterinary distributor serving thousands of veterinary practices across the country. The independent Fort Worth-based company, celebrating its centennial this year, has four distribution centers and offers over 30,000 products.
The partnership strengthens Petriage's drive to gain a larger share of the pet technology market for veterinarians and household pet parents nationally. Its unique software platform enables veterinarians to treat household pets remotely after-hours and also integrate the pets' medical data effortlessly into their vet practice management systems.
"We are delighted that Miller Veterinary Supply, the nation's oldest wholesale distributor of pet supplies to veterinarians and a company celebrated for its exemplary service, credibility and trust, has selected Petriage as the telehealth platform it will offer its clients, " said Petriage CEO Allon Freiman. "We look forward to partnering with Miller to help expand our footprint with veterinarians nationwide."
Petriage will leverage Miller Veterinary Supply's veteran dedicated account representatives to market its telehealth service, which features a proprietary and advanced online pet symptom checker that uses a sophisticated algorithm to identify what may be ailing a dog or cat. This enables veterinarians to expand their business as a "brick-and-click" practice and capture a significant portion of cases occurring after-hours that often result in emergency room visits.
Established in 1920, Miller Veterinary Supply has been growing rapidly and expanding aggressively. It has been adding distribution centers and has them in Fairview, N.J., Braselton, Ga., and Ocala, Fla., along with its Fort Worth location.
Petriage provides a free, proprietary teletriage app combined with premium services that enable veterinarians to engage their clients virtually after-hours in the care of their pets and integrate pets' medical data effortlessly into their vet practice management systems.
Its Basic service – the simple-to-use mobile interface validated by a team of veterinarians – assesses the urgency of a dog or cat's health symptoms and delivers trusted recommendations. Its Essential service level offers telemonitoring capabilities with a veterinarian. The Premium service level adds the ability to chat live with the vet and share photos and video for full engagement about a pet's health. Fees for the Essential and Premium service levels are usually included in a veterinarian's annual charge to a client.
About Miller Veterinary Supply Co.
Miller Veterinary Supply was founded in Fort Worth, Texas, in 1920, and has been instrumental in the introduction of hundreds of products over the years, and we look forward to our new venture into practice management software. www.millervet.supply.com is our web address that contains not only a full online store, but also helpful information about our products and services. Feel free to call us at 1-800-880-1920 or 1-855-645-7838 or you can email us at [email protected].