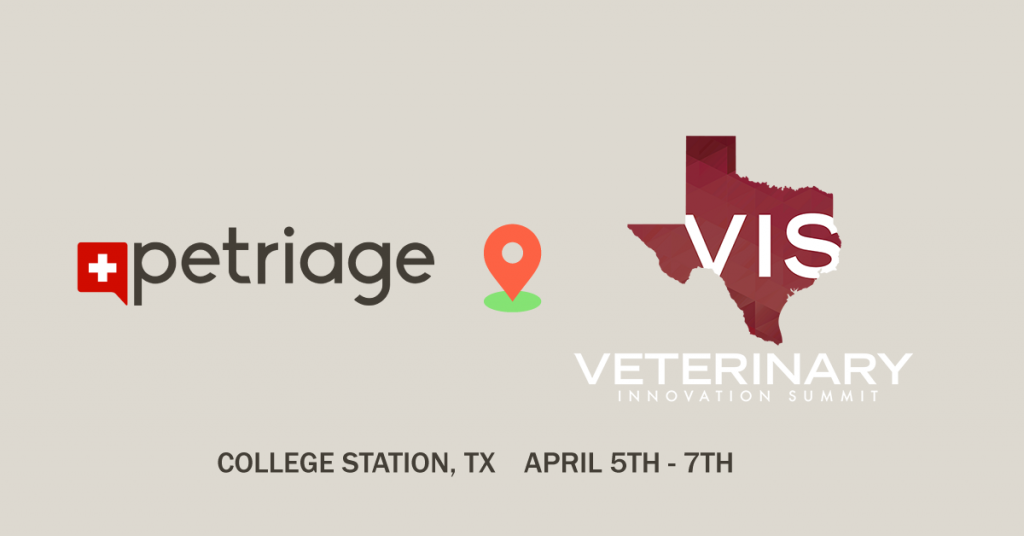 Petriage to Showcase Its Veterinary Telemedicine Platform at Texas A&M Veterinary Innovation Summit
Digital company also chosen for Shark Tank-like startup pitch competition
BELLEVUE, Wash., April 2, 2019 /PRNewswire/ — Petriage, a cloud-based B2B telemedicine service for veterinarians, will showcase its unique app that lets vets deliver remote care to clients and their pets at the Texas A&M Veterinary Innovation Summit, including participating in its Shark Tank-like pitch competition for promising veterinary startups. The third annual conference in College Station, Texas, begins Friday and continues through Sunday. 
The event presents the cutting-edge of veterinary medicine, focusing on technological innovations and ideas advancing the future of the profession. A collaboration of the North American Veterinary Community, Veterinary Innovation Council and Texas A&M College of Veterinary Medicine & Biomedical Sciences, the Summit features keynote speakers, panel discussions and breakout sessions. A highlight is the popular startup pitch presentation, at which founders of select emergent veterinary companies give a seven-minute talk about their business and field audience questions.
"We are excited at the opportunity to connect with industry thought leaders and to position Petriage at the forefront of innovation for veterinarians because it is the telemedicine solution designed with vets in mind," said cofounder and CEO Allon Freiman.
"We are especially thrilled to be one of the few companies participating in the startup pitch competition, embodying digital changes that are transforming our profession," noted cofounder Shlomo Freiman DVM, a practicing vet for almost 25 years. Together, they will relate how they developed the digital company's differentiated health-monitoring platform and the ways in which it helps veterinarians build their practices. Petriage will have a booth in the exhibit hall where attendees can see a demonstration of the telemedicine platform and meet Petriage's mascot Sumo, a French bulldog.
Dr. Freiman has been featuring Petriage's sophisticated telehealth solution in his practice for three years and has found that the integrated teletriage platform helps clients assess the urgency of care remotely 24/7, strengthening his client relationships.
"The data at my practice shows only about five percent of teletriage cases are genuine emergencies. Because I can advise clients remotely wherever they are, I'm able to capture a significant portion of cases I otherwise would have been unaware of and would likely result in emergency room visits," Dr. Freiman said.
"I've found telemedicine has streamlined practice workflow, which improves my own work/life balance. Additionally, my team, who I rely on to assist in monitoring triage interactions, are further empowered, happier, and committed to our patients' care beyond office hours," he added.
The Petriage telemedicine platform's symptom analysis tool, developed through artificial intelligence, gives pet owners a real-time recommendation regarding the urgency and need of their pet's symptoms and enables them to seek medical care for their pet from their vet. Following the algorithmic recommendation provided by Petriage, clients can request to interact with a vet during set telemedicine hours and, if necessary, later at the vet's office.
Also, clients can upload text, pictures and video via instant messaging within the app, and this provides useful information to the vet, ensures continuous care and averts unnecessary pet emergency room visits.
In January, Petriage and WellHaven Pet Health, a leading veterinary health management company based in Vancouver, Wash., announced a veterinary telemedicine partnership under which WellHaven will implement Petriage's platform in its 40 current hospitals with plans to expand to 150 hospitals within three years.
About Petriage
Petriage is a cloud-based B2B telemedicine service that allows veterinarians to service their clients and engage them in the remote care of their patients. Its unique offering is a telemedicine service highlighted by a proprietary symptom analysis tool, in which pet owners are provided a recommendation in real-time regarding the need/urgency to seek medical care for their pets. The company was founded in 2015 in Bellevue, Wash., by CEO Allon Freiman, Dr. Shlomo Freiman DVM Cornell, Casey Olives, PhD Harvard. Learn more at petriage.com.