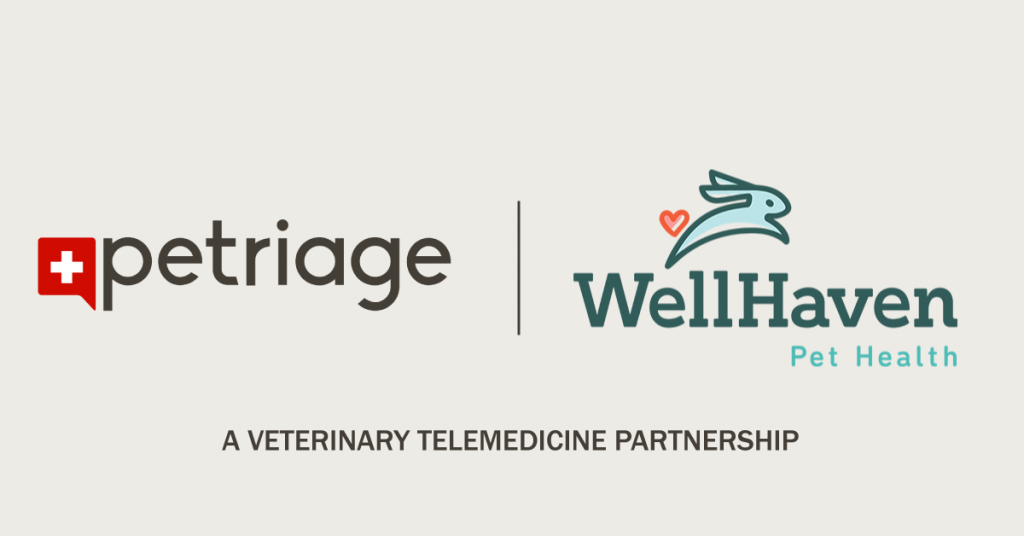 WELLHAVEN PET HEALTH ANNOUNCES NEW VETERINARY TELEMEDICINE PARTNERSHIP WITH PETRIAGE
VANCOUVER, Wash. and SEATTLE, Jan. 8, 2019 /PRNewswire/ — WellHaven Pet Health, a leading veterinary health management company committed to happy vets and healthy pets, today announced a new veterinary telemedicine partnership with Petriage. WellHaven will implement Petriage's veterinary telemedicine platform in all 40 of its current hospitals and has plans to expand to 150 hospitals within three years.
Petriage offers a cloud-based B2B telemedicine platform that allows veterinarians to service their clients and engage them in the remote care of their pet patients. The company's unique offering provides pet owners with a real-time recommendation regarding the urgency and need of their pet's symptoms and enables them to seek medical care for their pet from their vet.
Thomas Reuss, Managing Partner, WellHaven Pet Health, said, "The use of telemedicine to augment the practice of veterinary medicine, specifically the use of medical imaging and diagnostic technologies, is a first step toward improving patient care and the wellbeing of our veterinarians. We want to meet our clients where they are, and this partnership with Petriage supports that while helping us 'play from the front' in this space."
"WellHaven's partnership with Petriage is an important step forward in veterinary telemedicine. Our platform's ability to provide pet-owners with vet-validated information while keeping their personal vet informed of their pet's medical needs has proven itself in beta testing, and we look forward to applying it at scale in clinical settings," said Allon Freiman, Petriage CEO.
About WellHaven Pet Health
WellHaven Pet Health founded in July 2017 and based in Vancouver, WA has a simple motto for managing a corporate veterinary practice, "Happy Vets/Healthy Pets."
WellHaven Pet Health helps veterinarians and their teams succeed both personally and professionally. We value our owner veterinarians and encourage them to stay. Our focus on personal growth, practice support and life balance provide the framing of the relationship we want to have with our doctor leaders. For those who wish to exit practice management, we support them with a smooth transition plan focused on both the owner and the hospital team. We provide leader doctors an opportunity to share in the rewards of practice ownership without the risks associated. We are committed as servant leaders to ensure the success of our doctors, our hospital teams, and our profession. wellhavenpethealth.com
About Petriage
Petriage is a cloud-based B2B telemedicine service, which allows veterinarians to service their clients and engage them in the remote care of their patients. The Company's unique offering is a telemedicine service highlighted by a proprietary symptom analysis tool, in which pet owners are provided a recommendation in real-time regarding the need/urgency to seek medical care for their pets. The company was founded in 2015, in Bellevue Washington, by CEO Allon Freiman, Dr. Shlomo Freiman DVM Cornell, Casey Olives, PhD Harvard. Learn more at petriage.com.
Tom Reuss, Managing Partner
WellHaven Pet Health WellHaven Pet Health
(503) 706-2820
[email protected]
Jeff Zilka
Petriage
(847) 421-0622
[email protected]